S/LANG ENTERTAINMENT was founded in Brooklyn, NY in 2014 by the husband-and-wife team of Sara Sellar and Jonathan Lang. Originally a boutique media company specializing in digital solutions, S/Lang supported a diverse portfolio of clients, from non-profit clients, corporate, to street wear brands. They notably produced a series of short documentaries for skate brand Mighty Healthy. In 2015, S/Lang Entertainment created its first film, The Showing, which won the Van Gogh Award for directing at the Amsterdam International Film Festival.
Since relaunching in Los Angeles in 2021, S/Lang Entertainment now focuses exclusively on original content creation in film, animation, and comics. Sara and Jonathan love genre stories that explore contemporary issues, stories about outsiders battling unforgiving social systems. They are looking for partners committed to defying the odds and telling unheard stories that are essential. They are writers first, modern myth makers who believe that the written word is still capable of massive social transformation. They are tireless collaborators who seek passion-driven partners that are compelled to execute on seemingly impossible ideas. They firmly believe all work must be supported by compassion and kindness. If you share these views, let's collaborate and make something awesome!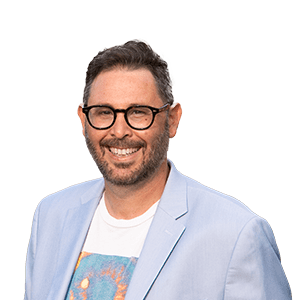 Jonathan Lang
Partner/Chief Creative Officer
As a writer and producer of film, animation, and comics, I utilize genre stories (horror and crime are favorites) to explore contemporary social issues and create modern myths. I gravitate towards "outsider" protagonists, people (or mythical creatures) who have been pushed to the margins by unforgiving social systems. My heroes are not only underdogs striving for glory; they're the marginalized who fight for survival. As a Miami native, I often set my stories in South Florida, a place where the improbable happens often. I am drawn to the visual contradiction between bright, tropical colors and dark impulse. I am a lover of the ocean and seafaring tales, even though I am prone to seasickness. Ultimately, my characters crave transformation in worlds that have become hostile.
I began my writing career as a film critic for the Miami New Times. My short film, The Showing, won a Van Gogh Award for directing at the 2015 Amsterdam International Film Festival. I am the writer/co-creator of the critically acclaimed, FEEDING GROUND (Archaia), which was optioned by Pressman Films in 2014. I was a contributor to Occupy Comics (Black Mask). My licensed work includes IDW's Garbage Pail Kids, which allowed me to live out a childhood dream of creating a GPK. I also contributed to Heavy Metal's Megadeath: Death by Design. My miniseries PLUNDER was published by in 2015 (BOOM!). My recent graphic novel, MEYER, a fictional biography of Meyer Lansky, was published by Humanoids and is now carried in The Mob Museum. I live in Los Angeles with my lovely wife and amazing son.
Sara Sellar
Partner/Chief Operating Officer
Sara Sellar handles the operations, funding, and management of S/Lang Entertainment. She is a graduate of Northwestern University's Medill School of Journalism. She started her career in the publishing industry working on health books including the bestselling The South Beach Diet. She began her film career as an intern for Plum Pictures and worked on their production Dedication. After another stint in media for The Rockefeller Foundation, she moved into the executive search world for financial services. Sara is currently a Principal at Kingsley Gate Partners focused on recruiting senior-level executives in the asset management industry.
Sara has taken her diverse background and co-founded S/Lang Entertainment with her husband, Jonathan Lang. She worked together with Jonathan as a producer on The Showing. She is a lover of the romance and true crime genres and is always looking to acquire great stories.